ACCESS OUR SCHEDULE
& EXCLUSIVE WEB SPECIAL
Secure your spot and get started today with our EXCLUSIVE offer!
DISCIPLINE & CONFIDENCE!
Build character and leadership qualities
Martial arts classes benefit growing children far beyond the dojo and in many real-world scenarios. Our structured classes are meant to help develop coordination, physical fitness, mental strength, as well as gain valuable social skills. Through positive reinforcement, we can bring out the best in your children to help them succeed in life.
VIEW OUR KID'S MARTIAL ARTS PROGRAM
My son has been training TKD for almost a year, and I have been training Krav Maga since December. I cant say enough about Master Chris. He has the patience to handle a room full of crazy 5-6 year olds. He keeps them focused, working hard, and always coming away with a smile on their faces. I have seen so much improvement in my son's development both mentally and physically.
At the same time he has the ability to completely switch to the intense, fast paced training that Krav Maga requires. Combining, conditioning, striking, and self defense allows for a curriculum that truly prepares you for anything.
Jason Hofer
My son wishes he could attend classes all 7 days of the week! Loves it!
Ennely Thornton
My daughter only wanted to do Tae Kwon Do, she had no interest in anything else. My BIL told me that one of his favorite teachers opened a school next to me. She started taking classes and she loves it. Master Chris has helped her confidence and taken her from a shy girl to an outgoing one . She is now a purple belt. I think Master Chris is excellent and motivating . I recommend this school to any age.
Stephanie Dabice
Absolutely BEST place to be for professional training. The facility is clean, and staff is amazing. Master Chris is so good with the kids and you can see his passion for what he does. If your looking for great quality training. Check out Absolute TKD.
Giovanni Tiano
My son started at Absolute TKD when he was 5 years old - he's now a blue belt! Master Chris is a great instructor, who is really good and patient with the kids! I can see my son feel so proud of himself when he moves to a new belt and I know it is beneficial for him to improve control and focus.
My husband also takes the Krav Maga class and really enjoys it. It's a great workout!
Alicia Macdonald Khamis
Master Chris taught my very first Taekwondo class nine years ago and it has been a part of my life ever since. He knows how to make hard work fun and how to tune in to each individual student to know what they need, whether it is encouragement, discipline, or a greater challenge. He is a great master for children and adults alike!
Barb Taylor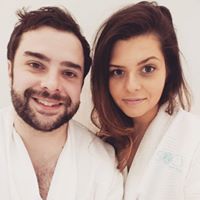 A few months ago I was grabbing lunch next door to Absolute Taekwondo and saw a sign. Literally. I had recently been talking about learning Krav Maga , but was having trouble finding a reputable school in the area. I gave it a shot, and I'm so glad I did. The classes are physically tough, but train you to be exhausted as you would be in any fight. The self defense skills are invaluable, and Master Chris does a great job at making sure we're prepared to get home safe if we ever need to apply these skills.
Dave Petracca
I was hesitant about signing my son up for martial arts due to his age but am so glad I did. He loves it and I have noticed a compete change in his attitude and confidence. Master Chris it's great with the students, the environment is very positive, and the school has a family like atmosphere.
Dominick Guerriero
My son LOVES Master Chris and his style of teaching, he looks forward to going to each class after more than a year. Highly recommend.
Howie Abraham
IMPROVE FLEXIBILITY, BALANCE, AND STRENGTH
Get fit while learning martial arts
Learn self-defense, build confidence, and get in the best shape of your lives! Martial arts has tons of physical, mental and social benefits, suitable for anyone and everyone. Become part of something positive and learn new skills from trained martial arts professionals. It's easy to get started—Enroll in martial arts classes today!
View Our Adult Martial Arts Program
Request Information
ACCESS OUR SCHEDULE & SPECIAL WEB OFFER!
Get started today with our EXCLUSIVE offer!
Request more information today to find out how you or your child can start training!
Get Started Today